Cleaning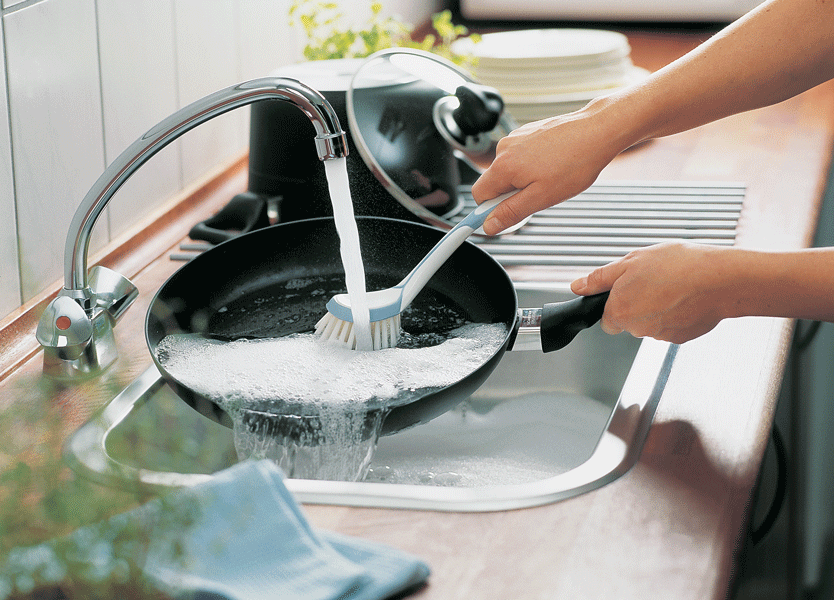 Before first use
Remove all labels.
Wash the product in hot soapy water with a nylon brush, a cloth or a sponge and let it dry.
Never use metal scourers or abrasives to clean your pot or pan.
It is important that the product is completely dry before storing.

Everyday cleaning
Never pour cold water on a hot pan; it can cause the bottom to warp and become uneven. Extreme temperatures can cause any type of metal to bend.
Avoid the use of extremely high heat. Only use low to medium heat.
It is important to remove all traces of grease and food residue from your pot or pan after each use to ensure optimum performance.
Never use oven cleaner.

Removing burnt or dried out food residue
Allow to cool.
Fill halfway with three parts cold water and one part washing-up liquid or vinegar. Place on stove and boil on medium heat until the residue loosens.
Allow to cool again, remove the food residue and clean according to the "Before first use" cleaning instructions.

Removing heat marks from stainless steel pans
Heat marks are stripes (typically bluish brown) that appear on the surface of stainless steel. They typically occur when the pan is heated too rapidly, causing oxidation of the external surface. This does not harm the pan or affect its performance.
Prepare a mixture of water and a stainless steel cleaning agent.
Alternatively, you can choose a natural mixture of water and 2 tbsp baking soda.
Pour the mixture on the stainless steel.
Wipe with a soft rag in a gentle, circular motion to remove the marks gently and slowly.
Never use oven cleaner on your pot or pan.